Use the promo code TPSH10 and get 1320 golds!
Trans Pornstar harem
Check out the brand new free trans porn game Trans Pornstar Harem! With this online browser game you will live an incredible experience among the hottest trans pornstars, shemales and ultra sexy tranny girls. Your mission will be to fuck as many trans women as possible, collect shemales to improve their characteristics before going to fight other players in the arena!
The Trans Pornstar Harem game is available for free on TransPornstarHarem.net! Enjoy playing one of the best sex games with tgirls and transgender characters!
Trans Pornstar Harem: 100% free online trans porn game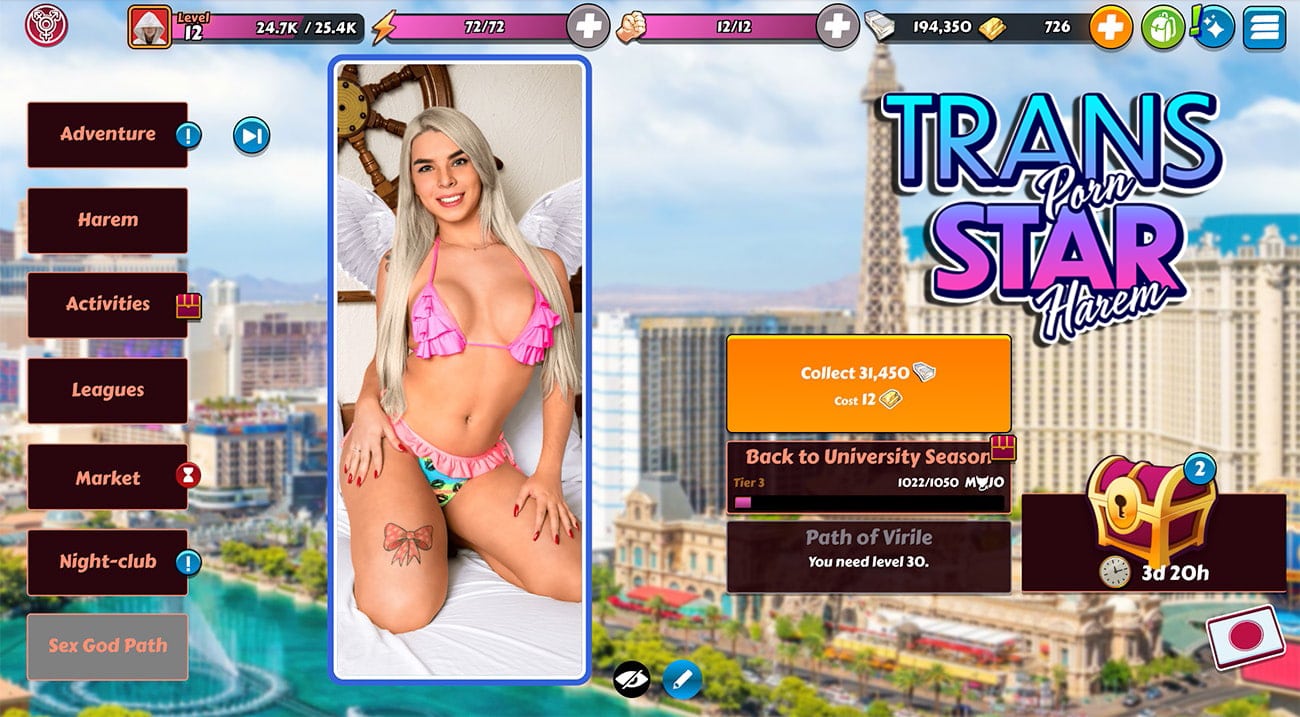 After the success of Pornstar Harem, Kinkoid released the trans version of Pornstar Harem in 2023. This RPG porn game is available for free directly in your web browser. In this game, you will be able to do whatever you want with trans characters, each one sexier than the other. They will do everything they can to turn you on and fulfill your most unmentionable fantasies.
About the story
In this ultra-realistic game, you will gradually enter the world of porn and meet trans pornstars. At first, you will have to seduce them to make your first sex experiences. The more you will gain in competence, the more your harem will develop. Your ability to seduce will start to make noise in the trans X scene. Some will be desperate to have a sexual experience with you. Others will challenge you. Thanks to your harem, you will be able to take on these challenges in PVP and increase your level even more.
Goal and gameplay of Trans Pornstar Harem
The goal of this game is to have maximum fun with realistic sex scenes. The more you gain in skill, the more your power of sexual attraction will increase. To gain skills, you will have to win events (main quests and side quests). In these events, you will have to fuck trans porn stars and be creative. The more quests and battles you win against other players, the more rewards and money you will have to spend in different places in the game and in stores. You will be able to give gifts to your harem to gain sexual favors and increase your level in battles.
Images and screenshots of the game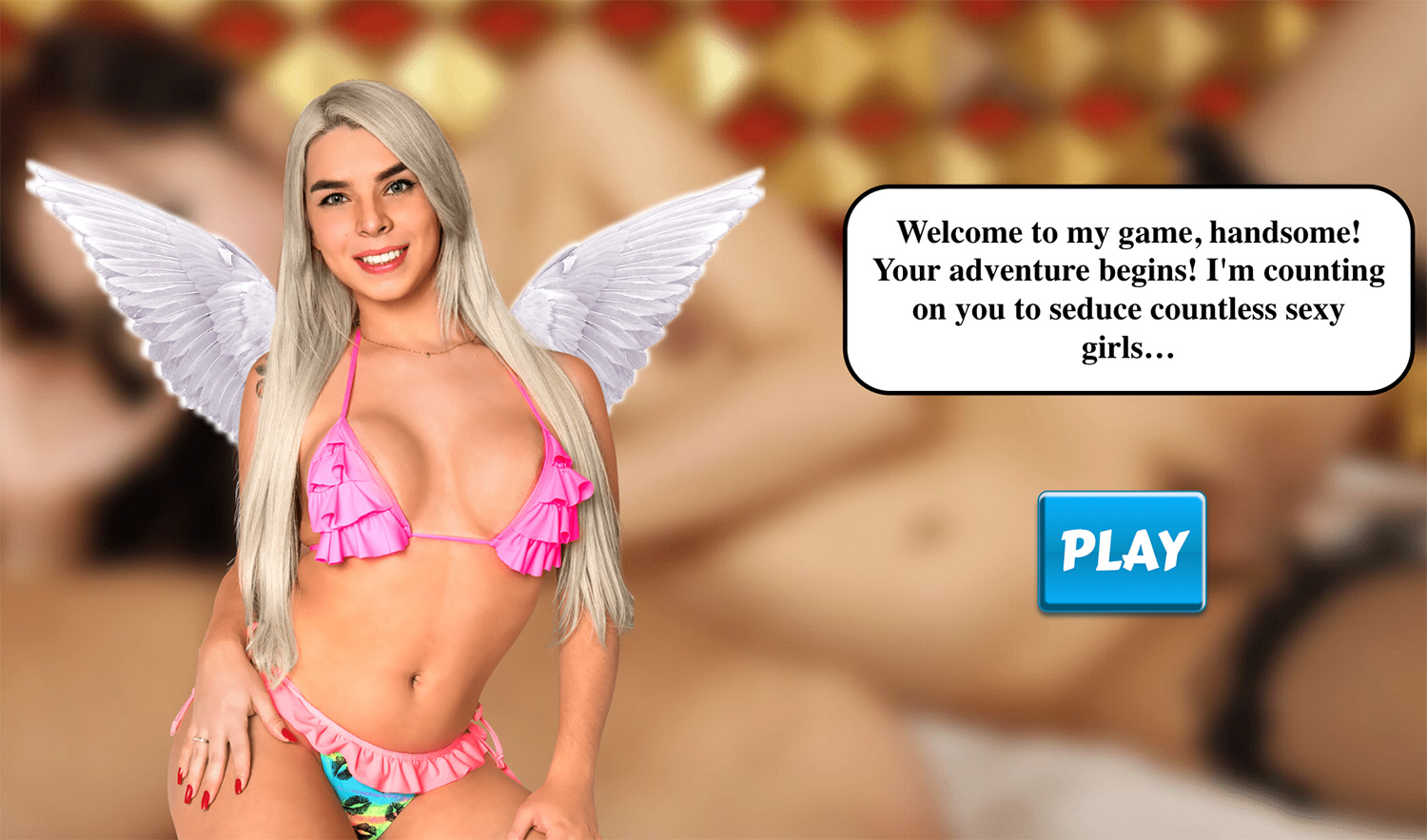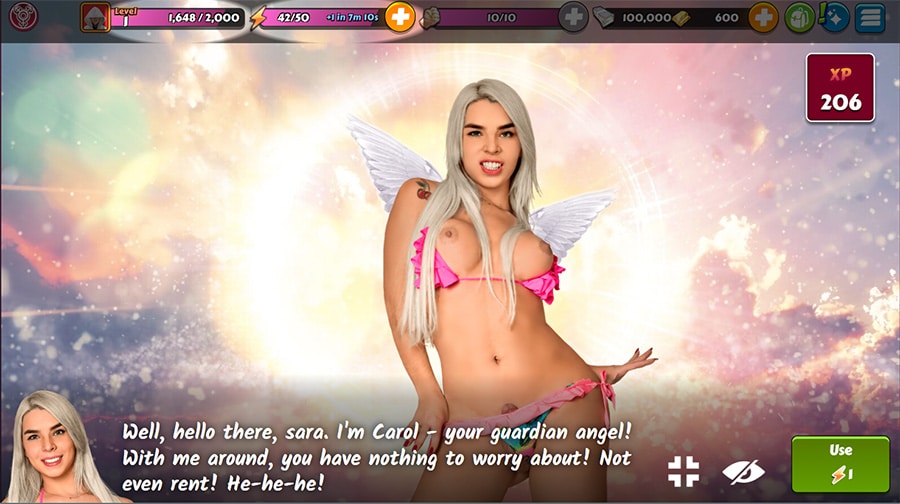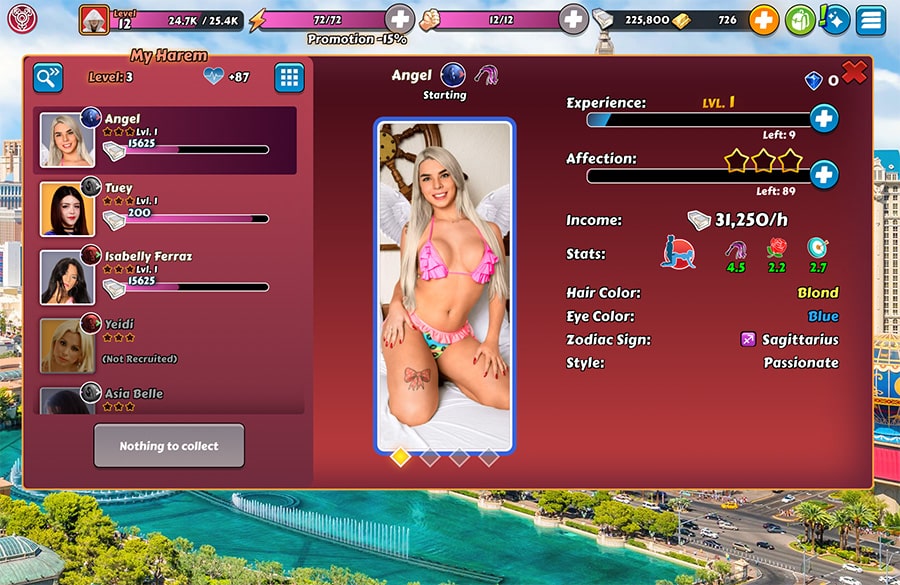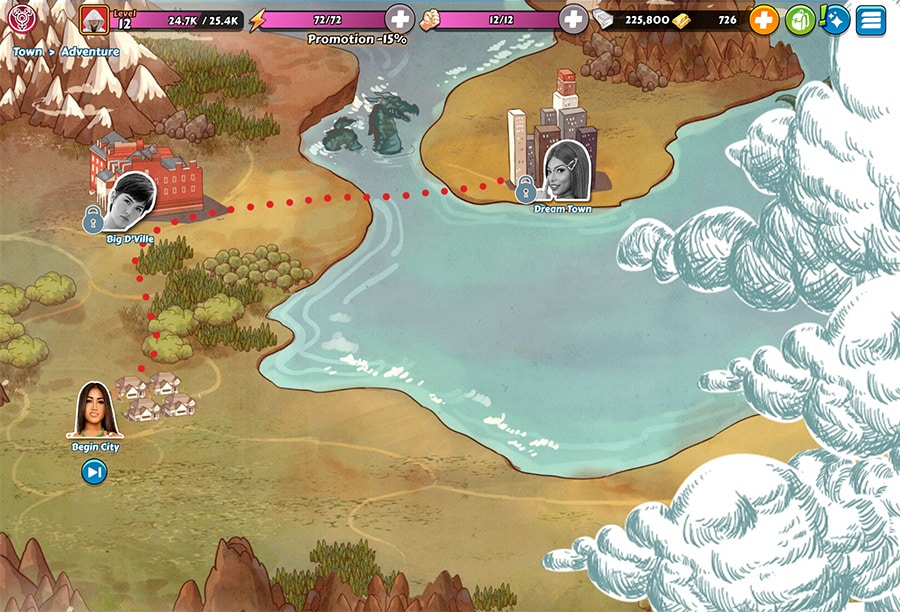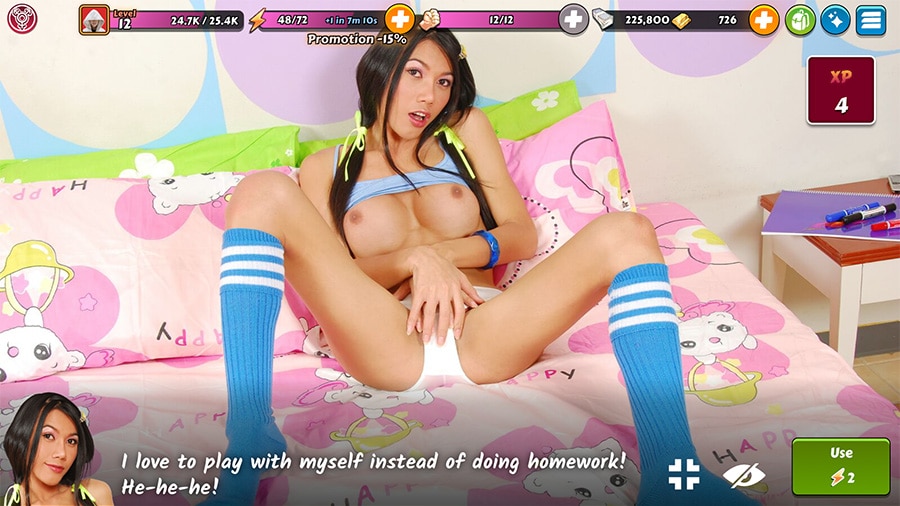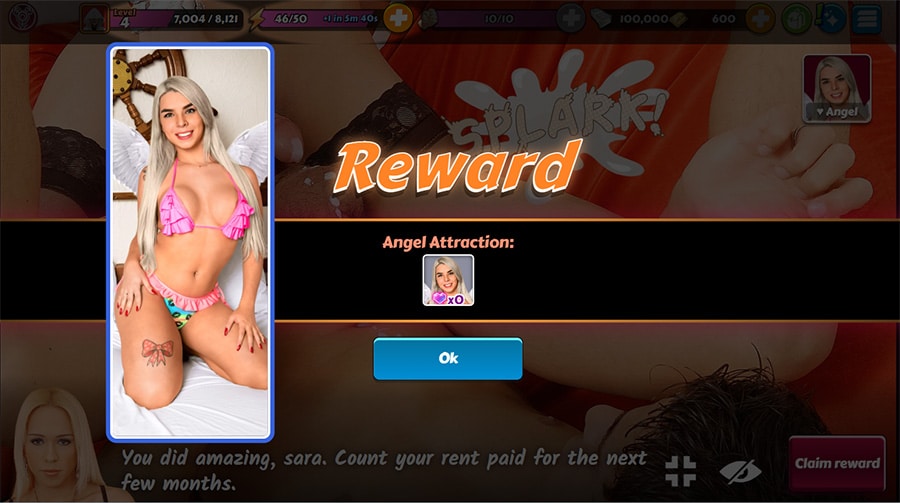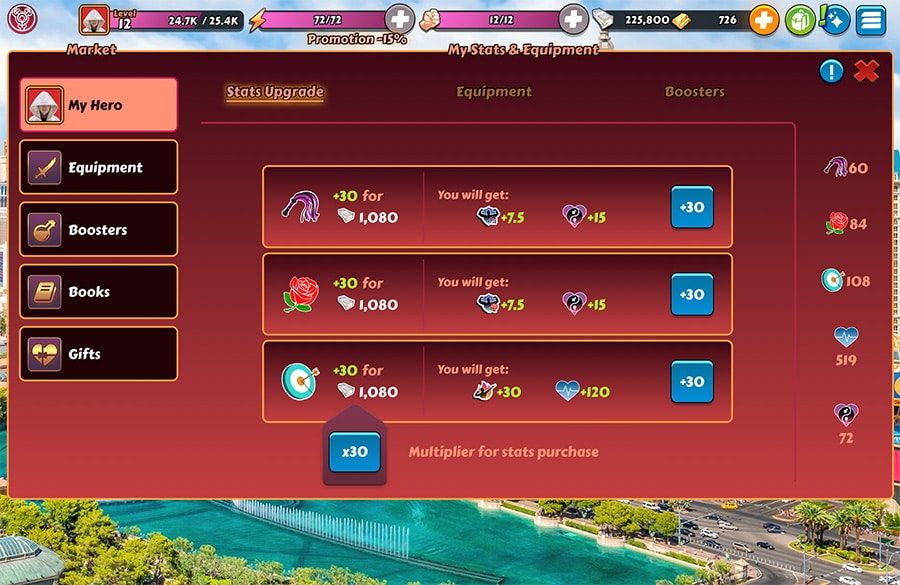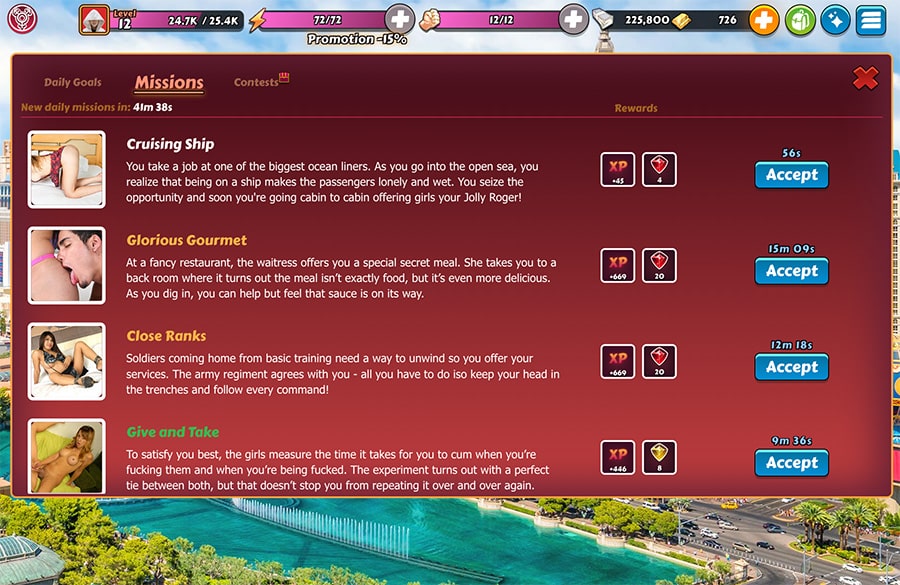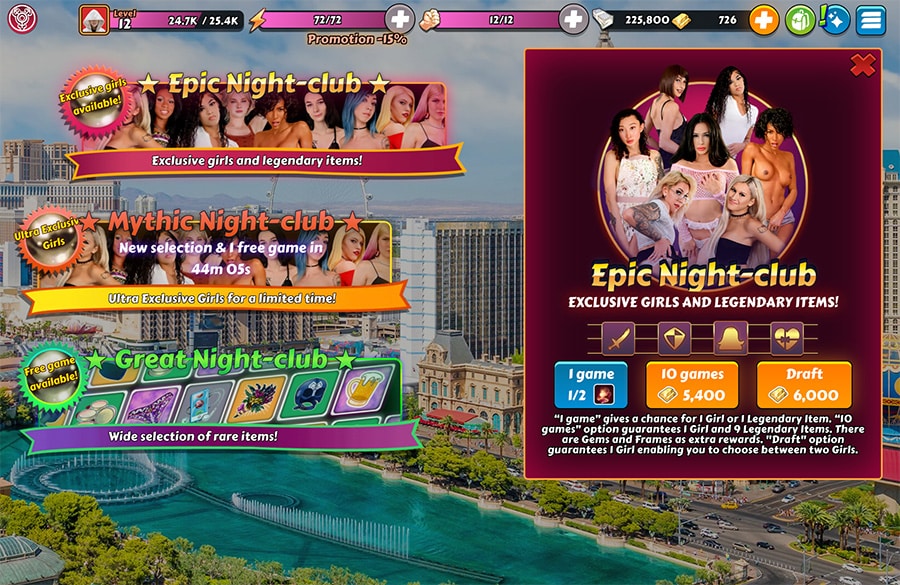 A free trans porn game
Trans Pornstar Harem is a free to play online game. This means that registration is free. Unlike some other games, you won't need to enter a credit card number to play. Afterwards, if you want to gain levels more quickly, the store will allow you to buy Kobans in order to unlock elements of the game more quickly (money, accessories...).
If you are looking for a porn game with trans women, tgirls, shemales or futanaris then Trans Pornstar Harem is a video game that should please you!
List of compatible devices
The game Trans Pornstar Harem is accessible directly from a web browser. This means that it is compatible with both PC and Mac. Whatever your operating system (Windows, Linux, IOS or Android...), you can play Trans Pornstar Harem from a PC, a tablet or from your smartphone. However, it is not yet available as a mobile application. You will be able to access the gameplay wherever you are, and whatever the circumstances. If you want to take advantage of a break at work to sneak into the bathroom with your phone and headphones, you can do it without any problem.
How to play Trans Pornstar Harem?
Playing Trans Pornstar Harem is very simple. All you need to do is to be over 18 years old and go to the game page. Click on the "Play" button to start the first mission. Then, the platform will ask you to create an account for free in order to access the rest of the game. If you wish to use the paid options as you progress, you can do so with your credit card.
What is the difference with the game Pornstar Harem?
Pornstar Harem is an RPG that was created in 2022. Even though the titles of these two games are similar, they are not quite the same.
As much, on the scenario, on the gameplay and on the way the game works, we find the same concept. The game is still based on a model with ultra-realistic graphics and main and side quests. The only difference between Pornstar Harem and Trans Pornstar Harem is that the second one is made of trans characters who evolve in the universe of trans porn.
The first opus tended to push the boundaries of censorship, but this second trans version will literally allow you to fulfill your wildest fantasies with sexy shemales. If you know Pornstar Harem straight version and you prefer trans experiences, this game should meet all your expectations and give you maximum pleasure.